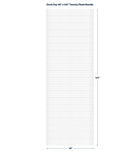 Key Product Features & Benefits:

Available in Classic White only.

Includes (20) 4' Plank Caps – Enough to Cover a 48" x 120" Deck or Dock Section (80 Linear Feet Total)
Perfect Modular Kit for Standard 4' Deck Stairs or Dock Gangways
Extends the Life of Your Existing Wooden or Composite Deck or Dock
Easy Installation and Requires Very Little Maintenance or Upkeep
Innovative Cap-Like Plank Easily Attaches to Your Current Structure
No Exposed Fasteners
Made of Premium-Quality PVC Material
UV-Resistant and Stays Cool-to-the-Touch
Slip, Stain, Crack, Split, & Rot Resistant

---

Extend the Life of Your Deck or Dock with Deck-Top!

Deck-Top is an innovative PVC deck-covering that offers deck and dock owners an easy solution for extending the lifespan of their current structure while maintaining a beautiful, strong finish that won't warp, crack, or rot.

A Beautiful, Low-Maintenance Decking Solution

Unlike uncovered wooden docks, you'll never need to sand, paint, or stain the boards again as long as they are covered with Deck-Top. This PVC-based product is designed to cap onto your current deck or dock's boards, and it's fully functional for both wooden or composite decking (fitting on top of 5/4" x 6" and 2" x 6" boards).

UV-Resistant, Slip-Resistant, and Cool-to-the-Touch

Deck-Top's UV-resistant surface stays cool-to-the-touch and is splinter resistant, so you can walk barefoot worry-free. The surface also features a built-in tread pattern to help prevent slips and falls.

 Shipping Process

Order Processing Time:

---

Shipping Transit Times for our Carriers:

East Coast USA: 1-4 Business Days
Central USA: 2-5 Business Days
West Coast USA: 3-7 Business Days

---

How We Ship:

Since some of the items we sell are a bit longer than most, they may need to be shipped through a freight carrier for extra love and care.

In the event that your order needs to be shipped by a freight truck, we may contact you via phone to set up a delivery appointment time that works best for both you and the carrier. LTL Shipping is curbside delivery only. If you need additional assistance there will be an additional charge.

Sample Kits or 48" Bundles may still ship standard ground delivery by either USPS First Class Mail, USPS Priority Mail, FedEx Ground or UPS Ground. Once we process your order, you will receive an email with your shipment's tracking number.

---

Shipping Rates

Ground Shipping:

We offer pre-calculated Ground Shipping rates based on your delivery zip code for our 48" Bundle Kits. After providing your zip code, you will be able to view the estimated ground shipping rate in your shopping cart as well as in the shipping section of the checkout process.

Freight/LTL Shipping:

Oversized items will most often ship via Freight/LTL carriers due to the extra care and handling required. *We cannot provide pre-calculated shipping rates for these items, so shipping costs will be invoiced separately.

Freight/LTL Shipping Configuration Process:

After your checkout process is complete, you will be contacted by a member of the Deck-Top Customer Care Team within one business day. We will consult with you on your delivery requirements and coordinate all possible shipping details. We will then gather the most cost-effective shipping quote from our roster of professional Freight/LTL carriers, follow-up with you on the options, and provide an invoice for the shipping costs to be paid to either Deck-Top or directly to the selected carrier.

If you need additional assistance once your LTL freight truck has arrived, please let us know as there will be an additional charge from the shipping company.


Expedited Shipping:

In a bind and need your Deck-Top ASAP? Contact us during normal business hours and we'll get you an expedited shipping quote right away!

---

If you have any additional shipping questions, please contact us.

T&C Decking Products Inc. Returns, Refunds, & Re-Stocking Fees:

T&C Decking Products Inc. and the entire Deck-Top Team are committed to earning 100% satisfaction from all our distributors, dealers, and our end users.

If you have any problems with your Deck-Top purchase or questions prior to your purchase, please contact us at (877) 492-4334 or email sales@deck-top.com and our dedicated team will work with you to ensure your complete satisfaction. We are here to help you Protect your Deck!

Return Policy and Process:

If you wish to return your Deck-Top order, first please review our Returns Policy below and then contact us via one of the following:

In order to return any Deck-Top product, you must contact us for a Return Authorization number (RA#) and we will assist you in every step of the process. We will require your original order ID, invoice number, and receipt and/or order confirmation email.

T&C Decking Products Inc. will not authorize any returns or provide any refunds to any parties other than the original order's billing and shipping contacts. We will always meet or exceed current consumer privacy protections.

You may submit a return request for unwanted Deck-Top products within 14 days of the delivery date.

*Certain circumstances may qualify for returns requested after 14 days but may not exceed 30 days. If you have any questions, please contact us; we are here to help.

Return Policy Details:

After your order is placed, our professional customer support staff will establish communication with you to coordinate a seamless delivery process to make sure your Deck-Top products arrive safe and sound at the most convenient time possible. During this time, we will discuss the following: desired shipping insurance (may result in extra charges), delivery address confirmation, authorized recipient contact information, end user receiving capacity (loading docks or the need for a truck with a lift gate), and any extra handling required from the carrier to safely deliver the product to you.
All scheduled freight/LTL shipments MUST be inspected by the customer prior to signing a bill of lading (BOL) from the carrier.
If the inspected shipment is deemed to be damaged by the carrier, the shipment MUST be refused by the customer. In this case, we strongly recommend taking real-time photographs of the shipping container and immediately (within 24 hours) reporting it to our Returns or Customer Support Team at the listed contact information above.
If a delivery is signed for and received by the customer prior to inspection, we cannot guarantee that any return authorization will be provided.
If a scheduled freight/LTL delivery attempt is made and unable to be completed due to the receiver not being available or because the customer provided incorrect information, the cost of delivery attempt, repeat attempts, and any return of the shipment to T&C Decking Products Inc. will be the sole responsibility of the customer.
Any credits or refunds for a return shall be issued only after the Deck-Top products have been received with a valid RA# and inspected by our qualified staff.
Qualifying Deck-Top products returned will be subject to a re-conditioning/restocking fee of 20% of the product and shipping price paid by the customer for the original order.
All authorized returned Deck-Top products must be in the same "unused", "as new", and "re-sellable" condition as they arrived at your residence or job site, and they must also be packaged in their original shipping container with protective packaging materials.
All shipping and handling charges associated with an authorized return of unwanted and undamaged delivered Deck-Top products will be the sole responsibility of the buyer. Our Returns Team will be happy to work with you to provide the most cost-effective and efficient returns method possible.
When a return is requested, we will guide you through the entire process including assistance on the scheduling of a return pick-up, proper reporting of the return Bill of Lading (BOL) or standard ground shipment tracking, and customer-provided images of the Deck-Top products secured in their original compliant packaging. This is necessary to ensure that any damages in transit for any authorized returns can be claimed to your return shipping carrier. Again, we will happily guide you through all these details.
Any Deck-Top orders returned to T&C Decking Products Inc. or the originating shipping facilities that have NOT been authorized with a valid RA# will be refused. Any corresponding delivery attempts and return charges will be the sole responsibility of the customer and no refunds will be given for the original order.
Custom or special-manufactured orders do NOT qualify under this return policy under any circumstances other than damages occurred during transit by the carrier (*this requires customer-paid shipping carrier insurance and inspection prior to receiving the freight delivery). If a custom or special-manufactured order is delivered, inspected, and received, under no circumstances will this order qualify for a return or refund.

Refund Policy Details:

Once an authorized return has been received by T&C Decking Products Inc. or the originating shipping facility, our team will complete a quality inspection to ensure all proactive measures and procedures have been followed according to the Returns Policy outlined above.

After the return process has been completed, refunds for authorized and inspected returns will be issued within 3 to 7 business days ONLY to the original billing contact and payment method. This applies to all T&C Decking Products Inc. returns.

Note: Our goal is to achieve the best possible customer satisfaction and we will always do our best to ensure this. If you have any questions or concerns, please contact us right away and we'll get you taken care of as quickly as possible.

Re-Stocking Fees:

At the discretion of T&C Decking Products Inc., a 20% restocking fee may be applied for authorized returns of Deck-Top products in unopened boxes, and a 25% restocking fee may be applied for all products in opened boxes.

*Re-stocking fees are based off the purchase price of the product returned.